Share
The term "artisanal and small-scale gold mining" (ASGM) refers to low technology and highly labour-intensive gold mining activities that employ basic extraction and processing methods. 
Artisianal and Small-Scale Mining (ASM, gold and other minerals) generates employment and income for over 44 million workers worldwide, feeding around 100 million people, including families and various service providers. Artisanal and small-scale gold mining (ASGM) offers a livelihood for more than 20 million men and women and, as the source of 20% the global gold production, has the potential to act as an economic engine to drive the sustainable development of mineral-endowed communities.
The sector, however, does not come without its challenges, often characterised by informal operations, widespread use of mercury, hazardous working conditions, child labour and, in some instances, conflict financing and money laundering. A significant share of ASGM producers are marginalised and endure a precarious financial situation: they are particularly affected by fluctuations in gold prices, unfavourable sale conditions imposed by intermediaries and have limited or no access to basic financial services.
Fully aware that disengagement from ASGM sources would fail to address the root causes of these challenges, together with the Swiss State Secretariat for Economic Affairs (SECO), the Swiss Better Gold Association and its members created the Swiss Better Gold Initiative for Artisanal and Small-Scale Mining (ASM). 
Learn more about the Swiss Better Gold Initiative's theory of change. The theory of change is a result of the last external evaluation of Swiss Better Gold, and emerged from a discussion between the key stakeholders involved.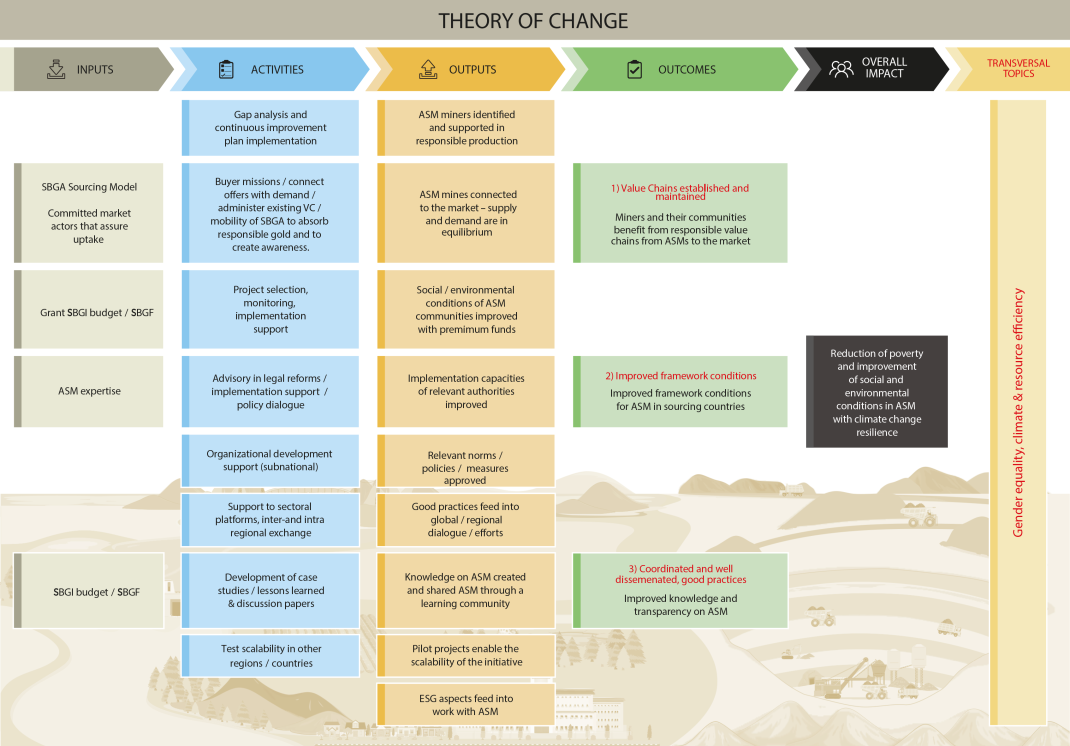 © Swiss Better Gold
The Swiss Better Gold Initiative for Artisanal and Small-Scale Mining purpose is to collectively turn ASM producers into a force for good by:
1. Providing technical support and training
2. Channelling direct financial investment in mine safety & improving productivity
3. Offering fair business terms & an additional incentive for community development projects