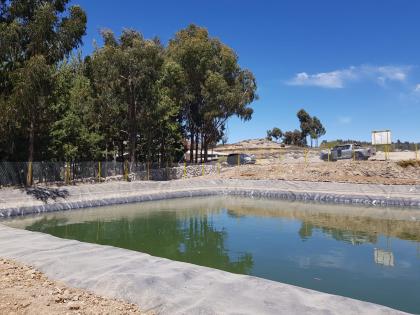 © Swiss Better Gold
Share
An additional water reservoir for community needs


Technical Assistance project at the SAMI Breapampa mine in Peru: creation of a new water reservoir benefiting the neighbouring community.
As a member of the Swiss Better Gold Initiative since 2020, SAMI is strongly committed to its social and environmental responsibilities, continuously improving improving their practices and generating positive impacts. The Mina Breapampa is located in the Ayacucho district, Peru, 3'600 above sea level.
Before the project, the mine's neighbouring community of Carhuanilla relied on a 200 m3 water tank to store water from the Curipampa River. This capacity was not sufficient to irrigate all crops, especially the ones located in the highest part of the communal territory.
Objectives:
Implementation of a new water reservoir with a storage capacity of 2,000 m3 and of a maximal length of 30 meters in order to perfectly fit the available place.
Project:
The new water tank dimensions are of 30 m long by 28 m wide and 3 m deep.
In order to avoid any leaks, a total of 1982 m2 geomembranes were integrated.
Quality tests were run to ensure the geomembrane's resistance.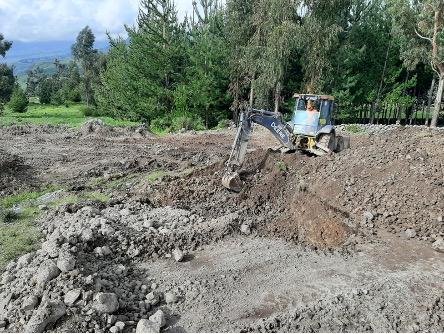 © Swiss Better Gold

© Swiss Better Gold
Project implementation:
The total cost amounted USD 85,584.-, with a Swiss Better Gold contribution of USD 42,792.- from the Better Gold Fund.
Impacts:
Social: the water tank is located on the land of the community, which directly benefits from it and assures the supply of irrigation water for the community's agricultural activities.